Події, новини, заходи
2009, Sep 24
Executive: Curacy of Ukrainian Greek Catholic Church of St. Mykola on Askold grave in city of Kyiv
Project aim: Providing of spiritual guardianship and social assistance to disabled children, people of old age requiring any assistance, HIV positive persons with the aim of improvement of the life and health quality for them and their family members.
Target group: 25-30 persons
16 families with disabled children (on the basis of created group of mutual assistance for family members with disabled children)

10 persons of old age requiring any assistance

5 HIV positive families
Parish charity service "Caritas-Pechers'k"
Докладніше
2009, Sep 24
Executive: Curacy of Ukrainian Greek Catholic Church of St. Mykola on Askold grave in city of Kyiv
Project aim: Financial and moral assistance for children of imprisoned mothers who reside in orphanages or with tutors. Set up family relations between child and mother.
Target group:
46 children requested about communication or some certain assistance.
4 children from family of many children who suffered from flood in fall 2008 in Carpathian region.
Parish charity service "Caritas-Pechers'k"
Докладніше
2009, Mar 18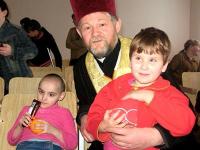 These children are always happy to see us as if it the first time. They are open, spontaneous and sincere. This time besides sweets and presents, we brought a theatrical performance prepared by the group Baby Lion in the name of the great Bard Taras Shevchenko and the landscape paintings of the Carpathian region by the poet-artist Mariya Tomyn. The children enjoyed the every moment of the attention payed to them. They watched the performance and the paintings with admiration.
Parish charity service "Caritas-Pechers'k"
Докладніше
2009, Jan 22
The charity service of the St.Nicolas church on Askoldova Mohyla together with the American friend Mr. Eric and his team visited the orphanage for handicapped children in the village Potiivka in the Zhytomyr region. There were 13 children in the orphanage at this moment of Christmas vacations, who did not have anybody to go to for such great holidays. Our visit was a grand occasion for them in this God-blessed time.
Parish charity service "Caritas-Pechers'k"
Докладніше
2008, Dec 24
Father-superior of the Greek-Catholic church is father Grygoriy and through him the help is distributed. Four families at the moment: those of Roman Myronyak, Borys Myronyak, Lesya Nykolaychuk and Oksana Uhors'ka have sent us thank you letters.
Parish charity service "Caritas-Pechers'k"
Докладніше
Our Father
Our Father, who art in heaven, hallowed be Thy name; Thy kingdom come; Thy will be done on earth as it is in heaven. Give us this day our daily bread; and forgive us our trespasses as we forgive those who trespass against us; and lead us not into temptation; but deliver us from evil.
For the kingdom and the power, and the glory are yours, forever and ever. Amen.
Докладніше
1 сторінок